SCS Alumni Website - Class Rep. Information
This information is just for those that wish to HELP as a
Class Rep., newsletter contributor, or in some other capacity.
For this, Bulldog wants to extend a hearty THANKS!
With your efforts, this site will significantly
help those that wish to keep in touch.

Please take a good look at the items listed below for details :-)

To send a question, or comment, to us... you can...
E-mail: scsalumni@email.com
Call our voice-mail: (607) 527-0567 -- NOT a toll free number!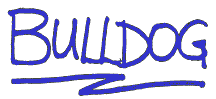 List of "proposed" Class Representative/Contact Activities:
Spread the WORD about your all-alumni Website and...
SCS Alumni Group on facebook ;-)
Be the vital link between your class and the SCS Alumni Group
Create and submit a class photo, if one is not already posted
Pass along information regarding your class reunion
Track, and submit, your class contact / address changes
Inform classmates of the option to Donate to the SCS Alumni Group
(but no arm-twisting ;-)
Send "article-type" information, concerning your class, for future newsletter editions -- who out there would like to resurrect the "Inkspot?"
Link, or establish (we already have a template available), your Class Website
Recommend improvements to this Website
Enjoy yourself, by not taking-on too much...


yet still helping in some way :-)



If you would like to do all, or any, of these items, please send Bulldog a note. Once we know that you're interested, please begin contributing in any way you'd like :-)




Note: Back in 2004, our virtual office -- using JungleMate.com -- ceased to operate as a free service, and then closed down altogether.

However, in 2014, the SCSAG decided to use Google Drive/Documents to help multi-site collaboration. If you are a class agent or just want to help Bulldog in some way, we will provide access to this resource. One word of caution though... please do not share the access credentials with anyone else... thanks.

If you would like to help, please send Bulldog a note.:-)



Alumni Search

SEARCH OUR SITE
Donate Today!